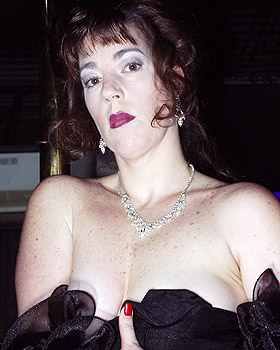 Afton

Afton is on Southern Charms IV and you don't want to miss any of her updates. She is one classy and sexy lady and really knows how to put on a show for you. Afton may come from the northeast, but she is a southern belle at heart and shows it with her great attitude and hospitality towards others.
Afton also knows how to turn a guy, and for that matter, a gal on. Check out her site and you will definitely see what I mean. She has some of the greatest and hottest updates that you could ever hope to see. Afton has that genuine knack for making someone feel like they have been friends for life - and once you meet her you will find that you are.
I have had the pleasure now of doing photo shoots with Afton at both the Carolina Bash II and the Texas Bash II. I really hope that you enjoy the shoots here in Happenings that I have done with her. There will be another and even hotter Happenings update coming in the future as well. Of course, you don't have to wait until it comes online because you can visit Afton and all her hot updates at her site.
Now on to Afton's inteview.
Lord Hardcore: How old are you?
Afton: 36 and loving it!!!
Lord Hardcore: Where do you live?
Afton: Upstate NY in the heart of the Finger Lakes region.
Lord Hardcore: Please tell us a little about yourself?
Afton: I am a Mom, I truly believe it is my best accomplishment. I live in my dream house built for me by my hubby about four years ago. It sits on 14 acres, plenty of land for me to garden. Another one of my passions. I live outside of a small village, which doesn't even have a stop light. Seneca Lake is only a half hour drive away and its a great place to live.
Lord Hardcore: What about your life as you grew up and what are your likes and dislikes?
Afton: I was very fortunate and had wonderful parents and an older sister and brother. Yes, I was the baby. Any time we were introduced to people, it was this is the baby (I loved it just the same). My parents were very hard workers, but I wished they had more time in this life to enjoy all the pleasures that they never took time for. They are no longer with me and I miss them.
Growing up I was a tom boy, playing all kinds of sports with my brother. We were just one year apart. At that time I also started my passion for gardening, art, and always had love for animals. I even thought of becoming a vet at one time.
We went to a very small grade school with only about 12 in your class which enabled you to know everyone and feel comfortable. When it came time for high school, well - that was different. That's when I started to become very shy and had very little self esteem. I never had any dates and I only went to one school dance. I played all of the sports. That's how I was able to fit in somewhat. I have had a great life growing up after all and feel that I was very fortunate. I don't have many dislikes except the cold weather.
Lord Hardcore: How old were you when you had your first sexual experience?
Afton: Believe it or not I thought I had to be the oldest virgin alive. I didn't have sex for the first time until I was at the age of 22. My mom believed in no sex until you were married. I didn't know anything, it just wasn't talked about.
Lord Hardcore: Please tell us a little about that first experience when it did happen?
Afton: My first sexual experience after waiting so long was in the back of a car after a night out of dancing. I was nervous and really wasn't sure of what was happening. Over all it wasn't very good.
Lord Hardcore: Have you ever had a girl/girl experience?
Afton: My first girl, girl experience was with an older women. She was about nine years older then me. She was a very sexy lady. We took it very slowly undressing and kisses and so forth. It was very sensual and I loved the feel of her softness and kissing and and touching. At that time I wasn't too sure that I liked to eat another girl, Now, I don't think I've had enough yet LOL.
Lord Hardcore: Have you ever had sex with multiple partners?
Afton: I have had sex with multiple partners. My first experience was with another couple as a foursome. It was great, very exciting especially to have hubby there too. What do they say the more the merrier, so yummy.
Lord Hardcore: What is your favorite sexual fantasy?
Afton: To be honest I think I could be living that now!!! This site on Southern Charms has made me feel really good sexually knowing that I'm turning all of you on out there. I live life as it comes and really have never fantasized about how I would like things to turn myself on. Living in the moment on Southern Charms is a fantasy come true.
Lord Hardcore: Is there anything else that I haven't covered that you would like to pass on to your fans?
Afton: I hope I have spurred up your interests about me somewhat. All of you out there have been great and I have loved getting your email and getting to know you. I wish everyone out there a Happy and successful life. We must enjoy for we only go around once (I think). Take care and many hugs and kisses.
Hot & horny for you !
AftonSC4