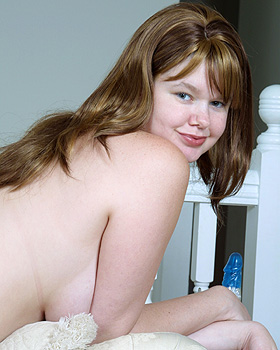 Aimeelynn

Aimeelynn SC4 is a great lady and has the honor of being the first pregnant Charms to appear in Happenings (at least the first that was showing). I really had fun working with Aimeelynn and hope to get the opportunity to work with her more in the future.
One thing that really came across while I was talking with her during the photo sessions is that she really likes the ladies so those of you who like a lot of girl/girl action will get to see it on her Southern Charms IV site by just clicking on Aimeelynn where ever you see it highlighted in this article.
Aimeelynn already has close to 50 updates on her site and in addition to what she says below about what you can find on her site, she has girl/girl, plenty of toy shoots and some girl/guy photo shoots for your viewing pleasure. Plus, I think that you will agree with me that Aimeelynn is one sexy pregnant lady.
I think that you are going to really enjoy this Happenings update featuring Aimeelynn playing with her hi-tech toy. She knows how to use it and takes all of it for your viewing pleasure.
Now, on to Aimeelynn's interview.
Lord Hardcore: Please tell us how old you are?
Aimeelynn: I turned 26 in March.
Lord Hardcore: Where do you live?
Aimeelynn: Beautiful Texas!
Lord Hardcore: Please tell us a little about your life while growing up?
Aimeelynn: Growing up in the south was a lot of fun! Playing in the creek, running around barefoot, and playing in the woods! I loved playing house or doctor and patient with the two boys that lived up the hill from me. We were always getting into trouble :)
Lord Hardcore: What are your hobbies?
Aimeelynn: I'm very into crafts, dancing, cooking, and especially Traveling (if you can call that a hobby LOL.)
Lord Hardcore: What are your likes and dislikes?
Aimeelynn: My dislikes are rude women, bad teeth, bad pick-up lines, and girls that wear shoes with their toes hanging over. Not necessarily in that order ;) My likes are blondes, when men make a muscle with their arms (that's a HUGE thing for me), I like the beach, and SHOES!!!!
Lord Hardcore: How old were you when you had your first sexual experience?
Aimeelynn: I was 18 when I had my very first sexual experience.
Lord Hardcore: Please tell us a little about that experience?
Aimeelynn: It was with guy I had a crush on forever, we went to his house after school, and everything went from there. It didn't matter to either of us that he had a girlfriend!!!! It was certainly a great first time!
Lord Hardcore: Have you had a girl/girl experience?
Aimeelynn: Oh MY YES! Plenty.
Lord Hardcore: Please tell us about that first girl/girl experience?
Aimeelynn: It was at the Oktoberfest in Helen. We went out to one of the pubs and met a bunch of guys who got us so drunk! They invited us back to their cabin and on the way everyone was getting pulled over by the cops that put up at a road block. They made everyone wait in this huge parking lot (there was a ton of cars) until we sobered up and then let us go on our way. While we were waiting another girl and I snuck off into the woods (told everyone we had to go to the bathroom) and we found a shed and started making out (we were so turned on by each other, and neither of us had ever been with a girl all the way). After the cops let us all go, we got separated from the guys that we were supposed to follow so we went back to our bed and breakfast and proceeded to please each other till the sun came up! It was amazing! A night I will never forget!
Lord Hardcore: Have you every had sex with more than one partner at the same time?
Aimeelynn: Yes...I would call it sex.
Lord Hardcore: Please tell a little about the first experience with multiple partners?
Aimeelynn: It was at a swing party and a bunch of us girls just started to please the other till we had about an eight girl train going. There was certainly a LOT of moaning in that condo!!!
Lord Hardcore: What is your favorite sexual fantasy?
Aimeelynn: I would say so far all of my sexual fantasy's have come true. But one I've had the most fun with was on the beach with my husband and a couple of friends of mine ;) Night time on the beach with a big blanket is just the best for a romantic scenery and great sex!
Lord Hardcore: Please tell us a little about what your fans can get by joining your site?
Aimeelynn: My members get to see some sexy MPGs of me doing naughty things, and some incredible pictures that will be sure to turn you on!!!! I answer ALL my fans personally (members usually within the same day or next). I also will chat with you on messenger once you become a member (I will send all the info you will need to talk with me live once I receive your membership conformation). You will be able to see me before and during pregnancy, up close and personal! I also have underwater pictures (more to come in May), girl/girl, and oral. I have much more planned for the upcoming months. I'm relatively new on SC and I've already had a blast!
Lord Hardcore: Please tell us about things that you offer for sale on your site?
Aimeelynn: I have my Panties and Pantyhose for sale on my panty page. Also, if you see something in my updates that you would like to purchase that I am wearing just contact me, I'm sure we could work out something to get it out to you. There are a few things I'm not willing to part with, but for the most part everything I wear, including the shoes, are for sale.
Lord Hardcore: Is there anything else that you would like to say to your fans that I haven't covered so far?
Aimeelynn: Please feel free to send me any thoughts you have on the photos that are already there (what I might be doing that you like, or don't like)....All opinions good or bad will only help me make my site more enjoyable for you!