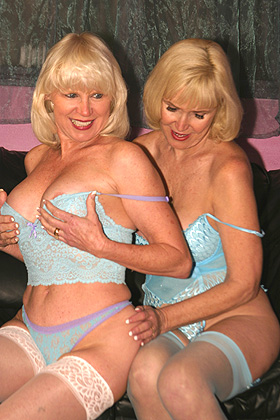 Bunny & Lola

Bunny & Lola SC1 are two lovely Charms who've been on Southern Charms for a number of years. Between the two of them they have over 780 updates on their Southern Charms I sites. Just click on either of their names where they appear in this article and give their pages a visit.
On Bunny's site you are going to see it all, strap-on's, toys, anal, smoking, feet, shaved, lots of her big breasts with big nipples which everyone loves to suck. Bunny shows you every place she would love for you to "do" her in. You will see her doing all her girl friends and any guys who are willing to get their photo made. Group sex is her favorite. Yes, she's a swinger and she loves to get naked, and that makes her a nudist too. I did my first shoot with Bunny back in 2002 at the second Texas Bash.
You can see Lola in action with girl/girl, guy/girl, interracial, threesomes, moresomes, outdoor, and alone playing with my toys, and much more. Lola also offers videos for sale on her site. Lola was one of the very first Charms I did a shoot with back in 2000 when SC Happenings was started. She has never disappointed me and this Happenings update is no exception.
Both Bunny and Lola have improved the period they have been on Southern Charms. These are two great ladies who deserve you taking the time to visit on their respective Southern Charms sites.