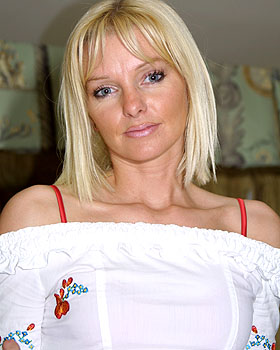 Ejay UK

Ejay UK SC2 was another one of the very nice United Kingdom Charms who I met during my whirlwind trip around Europe and the UK to do photos and interviews with the Charms from Europe and the UK for Happenings. I was lucky enough to meet both Ejay UK and her friend, Abbi UK, and their partners. They had already planned a photo weekend together and invited me to join them to do the shoots for Happenings. I am very appreciative of them giving me the time and opportunity to meet them.
I did three very nice photo sessions while I was together with them. One each of Ejay UK and Abbi UK and one hot session of them together which you will be seeing in the near future. After I was through with the Happenings photo sessions they stayed around for the rest of the weekend to do shoots for their sites on Southern Charms II so be sure and check out all their new photos on their individual sites.
I hope that you really enjoy the photo set of Ejay UK that I have chosen to provide here. She was in an old bed which you should like and she definitely knows how to have fun with a large toy. Be sure and take a look at this hot lady in the Happenings membership area.
Now on to Ejay UK's interview.
Lord Hardcore: How old are you?
Ejay UK: I will always be 28, but I'm really 31. Ouch!!
Lord Hardcore: Where are you from?
Ejay UK: Originally from Lancashire but I now live in Scotland.
Lord Hardcore: Please tell us a little bit about yourself?
Ejay UK: I have a large family, four sisters and I'm the one in the middle. We lived on a small farm with horses. We could all ride before we could work (horse riding that is).
Lord Hardcore: How old were you when you had your first sexual experience?
Ejay UK: I was a late starter and have only slept with two men in my whole sexual life. Something I'm very proud off.
Lord Hardcore: Tell a little about your first sexual experience?
Ejay UK: It was terrible. Upstairs in my bedroom with my boy friend whom I stayed with for 11 years. I was so nervous as both my parents were in. It was over in a flash. My partner that I'm with now has really taught and shown me every thing there is to know.
Lord Hardcore: Have you ever had a girl/girl experience?
Ejay UK: This only happened just recently. I met up with Lara from SC3 to do some updates together. So we got about four updates finished and then her boyfriend said why not do a video. There had been an electrical atmosphere all day with Lara and myself so we said yes. I was so nervous.
Anyway I lie at the end of the bed and Lara starts to give me oral whilst our boyfriends are taking pics and the other is videoing us. She gets her vibrator out and puts it in her mouth to wet it and then inserts the vibrator into me. I loved it and before long and I was letting the whole neighborhood know that I have just climaxed.
Stupid Ejay didn't realize that Lara would want the favor returned until she says, "right its my turn." Boy did I blush. So as we get on the bed I thought we would be in the same position. WRONG!!!!! Lara tells me to lie down and then she sits on me. Well what's a girl to do. I enjoyed every minute of it especially when she started moaning and her legs started to shake. I knew then that I was about to make a woman come for the first time but certainly not the last.
Lord Hardcore: Have you every had sex with more than one partner at the same time?
Ejay UK: No, but I'm open to offers. ;-)
Lord Hardcore: What is your favorite sexual fantasy?
Ejay UK: My partner ties me up on the bed and blindfolds me. I then feel what I believe to be him but then he takes my blindfold off and there, just about to enter me is the biggest hung black man ever. Oh baby, bring it on!!!!