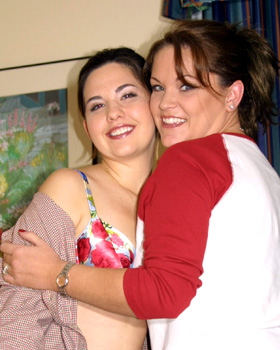 Madison & Violet

Madison & Violet

Violet SC1 was visiting close to where Madison lives and offered us her room to do Madison's Happenings shoot and interview which you will get to see later here in Happenings. Violet help direct Madison for two shoots that we did. One of them I gave to Madison so she could use in on her site on Southern Charms III. The other one will be seen here with her interview n the near future.
After the two shoots were finished, Madison and Violet were kidding around while Violet was giving Madison some make-up hints along with some help on how to pose. I just grabbed the camera and started shooting while the two of them were horsing around. We didn't have all the props to use for a business type shoot, but they thought that they would run through one for a future business setting shoot for Madison.
Violet had Madison sit at the desk and gave her some posing hints and then walked her through the rest of the shoot undressing Madison as they progressed. We didn't take this shoot too seriously since we were planning for future a shoot so you will see a little silliness coming through, but after they were finished I thought that it would make a cute bonus update. At least you will get to see some candid photos of two of the Charms as they went through this planning session.
Also be sure and visit Violet on Southern Charms I and check out her hot updates. Violet didn't come prepared to do a Happenings shoot, but hopefully, we will be able to get together in the near future so you can see and learn a little more about her here in Happenings as a featured Charm.