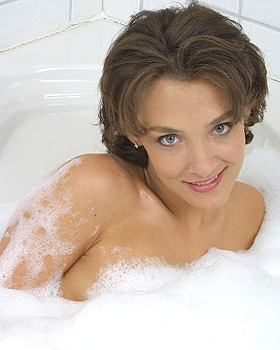 Reese

I drove all the way to Texas to meet the very lovely Reese SC3 and it was worth every minute of the drive. We had a great time doing the photos and I really had a hard time picking one set out of the four that we did to use here in Happenings. Reese had some requests from some of her fans so they were thrown in as some of the four photo shoots.
Reese did one shoot in a Jacuzzi (that is the one you will see here), one shoot in a fur for a fan, one in bed, and one in a chair. Of course, you get the chance to see all the other shoots with Reese by visiting her site on Southern Charms III. She really gets into posing for the camera and knows all the right moves and her husband is a great photographer so you will not be disappointed by visiting Reese on her SC site. Just click any of the highlighted Reese's you see on her page and you will be transported directly to her site in a new window.
I really had fun doing the shoots with Reese and I am looking forward to getting together with her again for more shoots in the future. I sure hope that someone picks up the hosting duties for the next Texas Bash and that I will be able to get together with Reese then for additional shoots.
I hope that Reese doesn't get too upset with me as I have included some candid shots of her during the Jacuzzi shoot because I think that they help show you the real Reese even when she is clowning around. Of course, with a subject like Reese one has to really work at taking a bad photo. Her photos are a lot like sex - the worst you ever get is still delightful. ...and don't you just love those perky nips.
Reese mentions in her interview about her husband taking photos of her and his best friend while the two of them were making with the wild passion - now I just need to talk Reese into making it a threesome with her husband and his best friend and inviting me there to do the photo shoot. Now that would make for a hot time in Texas as if Reese doesn't make it hot enough already.
Well, enough about my fantasies, on to Reese's interview.
Lord Hardcore: Please tell us how old you are?
Reese: I just turned 34 on the 1st of June.
Lord Hardcore: Where do you live?
Reese: I live in Austin, Texas. I think I have lived in every major city in Texas except El Paso. I was raised in Burbank, CA ~ but I am a Texas girl!!
Lord Hardcore: Please tell us a little about your life while growing up?
Reese: We moved around a lot . . . it was not a real stable home environment. I was a tomboy. I have three older brothers and bugged them constantly to take me with them to climb trees, build forts, play war etc!! And the poison ivy WASN'T my fault at all . . . . . I swear, lol. I also read to escape into my own little world. I pretended I was an Olympic ice skater with my roller skates and made up routines. . . .
Lord Hardcore: What are your hobbies?
Reese: I love working out . . . when I do, lol. I watch movies, read murder mysteries, love gardening, FOOD. . . . . . Music is a MAJOR part of my life, as my husband says I am the "80's one hit wonder Queen." I love to go dancing! And for the sexy fun hobby, I love to take pictures for/with my husband and my fans!!
Lord Hardcore: What are your turn-ons and turn-offs?
Reese: I love surprises. Kisses on my neck and down my back. Giving blowjobs. Being the object of someone's fantasy. When I have the opportunity, to be an Exhibitionist. I love a man with big, strong thighs and an awesome ass. A great smile. Being touched. I love beauty, whether it is a man or a woman. Great tits!! Lol A personality goes a long, long way!!! I dislike egos. Arrogance. Belittling. Bad breathe. Sloppy wet kisses.
Lord Hardcore: Please tell us a little about that experience?
Reese: It happened while my mother was away for the weekend and I invited a lot of friends over. . . . . long story short, I got in trouble with my best friend. She had a crush on the guy. . .bad thing was – I knew it!!! She forgave me eventually. He was "the popular guy" and beautiful!! I think I was just amazed that he gave me the time of day. . . lol. . .boy – I was so naive!!! We did become very good friends years later.
Lord Hardcore: Have you had a girl/girl experience?
Reese: Yes.
Lord Hardcore: Please tell us about that first girl/girl experience?
Reese: I met Angel Under when I moved to Austin. I went over to her house to do our first shoot together. We had "a few" beers and after a few pics. . . . we forgot about the photographer and it was all about us!!! What we wanted to do, not what was expected from us. It was the kind of touching and kissing that only women know. . . because we know what we want. It was exhilarating, sensual, and having the photographer watch was an added bonus thrill.
Lord Hardcore: Have you ever had sex with more than one partner at the same time?
Reese: I have had two throbbing hunks of manhood in my hand at once. . .does that count? Lol
Lord Hardcore: Please tell a little about the first experience with multiple partners?
Reese: I was making love to my husband's best friend while he was taking pictures. And I gave both of them blowjobs. Drew has appeared on my site. He is a very sweet guy. It was funny, we were going at it and my husband would come underneath us with the camera. . . . guess I should post those pics sometime.

Lord Hardcore: What is your favorite sexual fantasy?
Reese: To be driving in a convertible . . . . it starts to rain. We pull off the road, into a wide open field. We get out of the car. I am leaning against it (the car that is). He has his arms on either side of me. Not touching me. We kiss as the rain makes us wet. He kisses my neck, starts to un-do my blouse, and runs his hands down my sides and wraps his hands around my ass. He then lifts me and we tumble into the back seat. . . . . . Y'all take it from there.

Lord Hardcore: Please tell us a little about what your fans can get by joining your site?
Reese: Tasteful, classy but provocative poses. . . . a soon to be mpeg section, my husband will be joining me soon also. There will be intercourse pictures and all that goes along with that

. There are a lot of close-ups, fetish pics, nip shots. I do offer smoking pics but they are not the majority. I do requests . . . depending on what they are. I do my best to please Y'all and I also like to do my own thing and have some fun at the same time. I get personal and you see what I am really about in my Members Section text. I do believe that my Members have put their faith in me by joining and I want to let them know how much I appreciate that by giving more of myself besides being naked. With over 600+ Charms, I feel VERY honored that they picked my site to join!!!
Lord Hardcore: Please tell us about things that you offer for sale on your site?
Reese: I have a wide selection of panties. I do not do videos at this time.
Lord Hardcore: Is there anything else that you would like to say to your fans that I haven't covered so far?
Reese: I am a stay at home mom and that is my first priority. I have two girls and they take up a lot of my time and energy. Not to mention my husband also!! The main complaint from my fans is the time it takes me to respond to my emails. I do apologize for this but I will not sacrifice "family time." I am not your "typical" Charm as far as the sexy fantasy type. I am my normal goof-ball self. What you see is what you get!!!! There is a lot of personality and fun. Also, I do not do shoots with a bunch of different Charms. Angel Under is my lucky Charm. I am wanting to do a shoot with another Aggie Charm. . .that is in the works. And yes, I said Aggie – lol. My husband and I were both Nutrition Majors and went to Texas A&M. We did not meet there ~ we went to Jr. College together. . . . he was in my History class. I wasn't doing well in that class and the teacher informed us that my husband was "the shining star" of the class, gag! (I couldn't stand her!!!!!!!). Anyway ~ I asked him to tutor me. . . . it took him awhile to break through my wall – but he never gave up on me and we became very good friends before lovers. . . and that is our saving grace I believe!! We have been through so much crap . . . . anyway!!! Lol. This is what my members get – My babbling. . . .
Thank you for taking the time to read my interview. I hope you enjoy the great pics Lord Hardcore took. I love this man!!
Come by my site, take a look and drop me a line (though it make take ages before I get back to you, LOL!!!

Reese