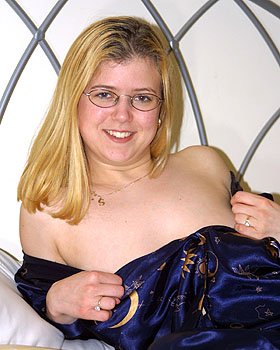 Trinity UK

What a lovely Charm. Trinity UK and her partner are great people and I really enjoyed meeting and visiting with them. We had a great time doing the shoots and just talking. We had a very good Chinese meal which they treated me to and for which I would like to say thank you. Also, thank you for putting me up for the night and getting me back to the train in time to make my next shoot in the UK.
Trinity UK is definitely a free spirit and really enjoys sex. She puts on a great show in the shoot for this interview playing with herself and letting her fingers do the talking. Of course, in a short while, the gold toy make it's way into the photos. I also did two other shoots with Trinity UK which I gave her to use on her site on Southern Charms IV so be sure and check them out as well. Of course, you won't want to miss any of her other updates that she and her partner do and the fun they share when friends are invited over to play. You can see it all on Trinity UK's site.
Now, on to Trinity UK's interview.
Lord Hardcore: How old are you?
Trinity UK: I am 20.
Lord Hardcore: Where are you from?
Trinity UK: I am from Hertford in the UK. I live about 20 miles north of London.
Lord Hardcore: Please tell us a little about where you live and your partner?
Trinity UK: I live with my partner in a nice apartment over looking the river. We are getting married in Jamaica in May 2003.
Lord Hardcore: What was life like while you were growing up?
Trinity UK: I grew up in Cheshunt which is about ten miles away from where I live now. We lived in a normal three bedroom house. I like swimming and reading. We often walked along the river to the local pub. I can enjoy reading a book whilst at the same time having a drink and watching the swans swim by. It is so relaxing.
Lord Hardcore: Please tell us a little about it?
Trinity UK: Well, to be honest it was not good. My boyfriend at the time took me to the local forest. I was terrified at being caught. It lasted all of two minutes. Now I love going to the forest and I get a big thrill at the idea of being caught.
Lord Hardcore: Have you ever had a girl/girl experience?
Trinity UK: Yes, my first girl/girl was at a swingers party. There was not much happening and it was getting late. So my boyfriend and I decided to go off to one of the bedrooms. The next thing I know there are four couples on the bed. One of the girls just started to kiss me. It just progressed from there. The next two hours were fantastic and I made out with 3 other girls.... I have not looked back.
Lord Hardcore: Have you every had sex with more than one partner at the same time?
Trinity UK: Yes, I was doing a photo shoot with a guy that I know. He is very good looking. My partner was taking the pictures. The next thing I know the camera was put away and both the guys were looking after me. It had always been a fantasy to have two guys. Since then I have done it a few times and I love it. There will be more to come.
Lord Hardcore: What is your favorite sexual fantasy?
Trinity UK: My favorite fantasy at the moment is to tie a girl up and seduce her. After she has had her pleasure I would just carry on until she could not take any more.